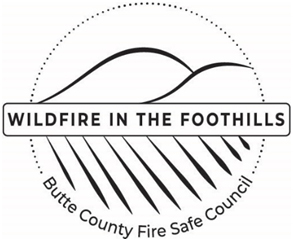 Wildfire in the Foothills, updated in 2021, is intended for the sixth-grade students of Butte County. The purpose is to support students who live in fire-prone areas and to build fire-resilient communities through youth education and resident action. Below, you will find all the resources you need to access the program and bring trauma-informed fire education into your classroom. Please review the Program Overview and Forward to Educators before beginning lessons with your students. Wildfire in the Foothills is comprised of seven lessons with accompanying PowerPoint presentations. In addition to the lessons, you will find below links to a Jeopardy-style review game and a culmination activity in the form of a Firewise community meeting. You can download and print resources individually or download the full program below.
INDIVIDUAL LESSON PLANS:
Lesson 1: Geography & Landscapes

Students are introduced to the physical geography and vegetation communities of Butte County by using maps and visual aids to notice patterns between elevation, vegetation, and fire. Students will use the Butte County Forest Health Guidebook to learn how fire plays an important role in maintaining healthy forests.

LESSON PLAN PDF
POWERPOINT LINK

Lesson 2: Cultural Fire

Students learn how Traditional Ecological Knowledge and cultural burning has been used by Indigenous Californians to improve ecosystem health for thousands of years.

LESSON PLAN PDF
POWERPOINT LINK

Lesson 3: Fire Physics & Ignitions

Students are introduced to The Fire Triangle and The Fire Behavior Triangle to learn about the factors that affect how wildfires burn. Emphasis is put on reducing human-caused ignitions, the cause of most wildfires. Students create a wildfire public service announcement to grow fire-safe awareness in Butte County.

LESSON PLAN PDF
POWERPOINT LINK

Lesson 4: Community Wildfire Mitigation

Students learn about the current efforts to build more fire-resilient communities across Butte County. Video segments, filmed in 2021, highlight fire mitigation activities with interviews from fire professionals and educators. End by watching Wildfire Ready Raccoon's music video and discussing youth-led community service projects.

LESSON PLAN PDF
POWERPOINT LINK

Lesson 5: Fire Resistant Structures

Students learn how maintaining defensible space and home hardening efforts can increase a structure's chance of surviving a wildfire. Focus is put on the Firewise principles of minimizing risks in the three Home Ignition Zones and highlighting tasks that students are able to help with.

LESSON PLAN PDF
POWERPOINT LINK

Lesson 6: Family Preparedness – Get Ready!

Students learn how to prepare a Go Bag and make a Family Emergency Plan. Documents from national fire preparedness programs are provided for students to take home to support in their own family's fire preparedness.

LESSON PLAN PDF
POWERPOINT LINK

Lesson 7: Wildfire Response – Get Set! Go!

Students learn what to do in the event of a wildfire emergency and how to activate their Family Emergency Plan to evacuate and get to safety. Students are provided with county-specific emergency information and take home a "Ready, Set, Go" Evacuation Plan, community evacuation map, and a county emergency communications guide.

LESSON PLAN PDF
POWERPOINT LINK

Jeopardy-style Review Game

POWERPOINT LINK

Culmination Activity: Firewise Community Meeting

Students review key program information with a mock Firewise community meeting. Students will represent residents and stakeholders that have something important to share about wildfire mitigation, response, or recovery. The focus of the meeting is to learn how to create a more fire-safe community and hear from the people working to make it possible. After student presentations, the Wildfire in the Foothills program will conclude with a final class discussion.

Educator Survey

If you have used Wildfire in the Foothills in the classroom, please leave your feedback through our survey below. We value your feedback to continue to improve our educational programs. Thank you!