How should the forest in Paradise, CA be managed in the post-2018 Camp Fire era? That question and much more is explored in a Forest Management Plan which is in its draft phase now ready for public comment. The plan is designed in an online format with pictures and maps that are interactive and informative. It can be reached by clicking on the following link:  Paradise Forest Management Plan
Comments can be made by clicking HERE and are requested by Monday, April 12th, 2021.
The Forest Management Plan was designed after the 2018 Camp Fire knowing the importance of defining management objectives that are socially, environmentally, and ecologically responsible as Paradise rebuilds and reforests the land. This plan is unique in that it was developed to inform and assist policy makers and guide community members through roles and responsibilities in the long-term health of the forest in Paradise. Through the plans guidance, policy makers and each individual landowner that makes up the Paradise landscape can learn to collaborate, manage, and protect our communities from the devastating impacts of hazardous wildfire.
This Forest Management Plan represents a collaboration of partners from the Butte County Fire Safe Council, Cal Fire, Butte County Resource Conservation District, and Big Chico Creek Ecological Reserve.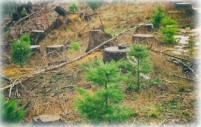 The plan takes a deep dive in understanding important forest management topics that will help guide community members such as:
o Paradise Ecosystems and Fire
o The Post-Camp Fire reality
o Reforestation techniques
o Home Hardening
o Projects in your neighborhood
o Emergency Action Plan
o Our Roles and Responsibilities
For more information contact Butte County Fire Safe Council, a local non-profit
organization at (530) 877-0984
Funding for this project provided by the California Department of Forestry and Fire Protection as part of the California Climate Investments Program.