2023 Paradise Grazing Festival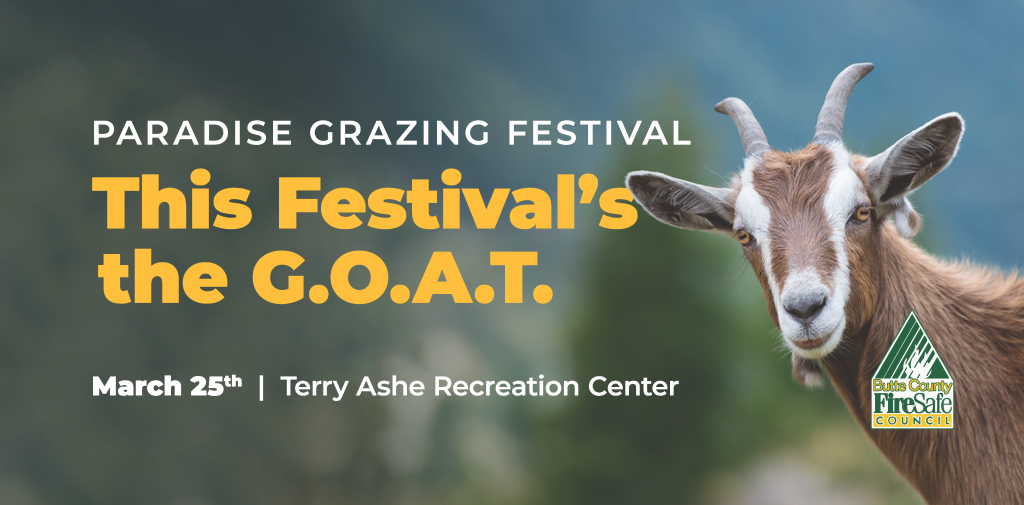 Hay there! Did you hear? The Paradise Grazing Festival is back this year!
It's baaa-ck. After last year's inaugural event, the Paradise Grazing Festival has returned for another fun-filled family-friendly day.
Who? Join the Butte County Fire Safe Council (BCFSC) for the 2nd Annual Paradise Grazing Festival. They're bringing the G.O.A.T. (greatest of all time) goats, too, just like last year.
When? Saturday, March 25, 2023, from 10 a.m. - 3 p.m.
Where? The Terry Ashe Recreation Center at 6626 Skyway, Paradise, CA
Why? Come celebrate some amazing grazing from nature's firefighters. Learn about how goats can help protect our communities from wildfires by clearing flammable vegetation to create a more fire-safe landscape. Learn about using grazing for wildfire safety, and then stay for food, fun, entertainment, and more.
Fun Fact: Did you know goats have 4 stomachs? This makes them lean, green, eating machines for clearing brush, and invasive species. They're the ideal tool for fuel reduction to create defensible wildfire buffers and get into difficult access areas, like steep terrain to prevent the spread of wildfire.